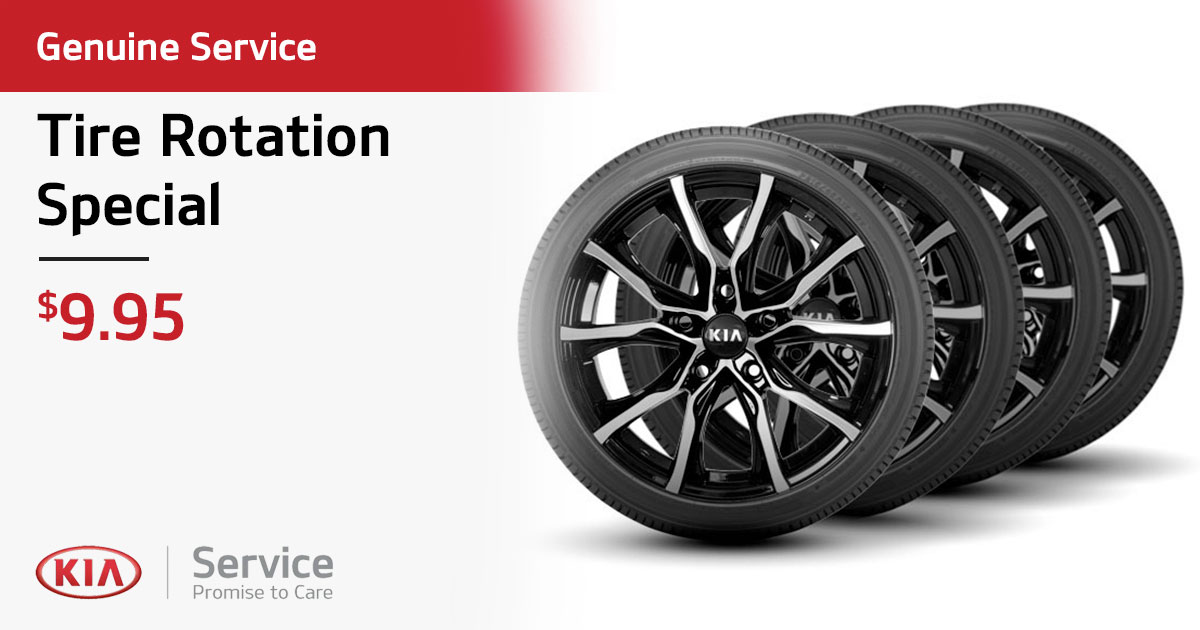 Tire Rotation with Kia of New Bern
Tire rotation is an important service to maximize the lifespan of your tires and the efficiency of your vehicle. Come to Kia of New Bern and we can perform a proper tire rotation for you. You'll find us in New Bern, NC, only about five minutes from James City via Route 70 East. From Trent Woods, you can reach us in 10 minutes. We're also conveniently close to River Bend and Brices Creek.
The Importance of Tire Rotation Service
Tire rotations are necessary to account for how differently tires wear out depending on the position they're located in. Front tires wear differently than rear tires. Also, the driver's side tires wear differently than the passenger's side. Without rotation, tires will lose their tread more quickly than they should and require replacement.
The Process
When you have a tire rotation done on your Kia, the position of each of your tires will be changed. The typical tire rotation pattern for a front-wheel-drive vehicle is to have your two front tires moved directly to the rear tire position behind them. Then, the rear wheels are moved to the front, but the side of the vehicle that they're on is switched. If you drive an all-wheel-drive vehicle, your rear wheels will generally be moved to the front instead, and your two front wheels moved back with their sides switched.
How Often Should I Rotate my Tires?
Getting your tire rotations done when necessary is important. You should try to have your tires rotated at least once every 6,000 miles. You might want to request to have your tires rotated at the same time that you get your oil changes done. This is a convenient way to make sure that you are keeping up with your tire rotation needs.
Tire Rotation Service at Kia of New Bern
 Come to us at Kia of New Bern for your tire rotations to take advantage of the expertise provided at a factory-certified service center. Our technicians can handle your tire rotations and answer any questions you have about Volkswagen operations or service needs. Our dealership offers Volkswagen expertise and a long list of amenities to make your service appointments as convenient as possible. When you are ready to set up a service appointment, give us a call. If you'd like to ask us some questions about tire rotation or another service first, visit our website. You can use the chat feature on our website to submit any questions you have to us. You can also use our website to get a tire rotation coupon and learn more about our services and amenities.  
  Schedule Service