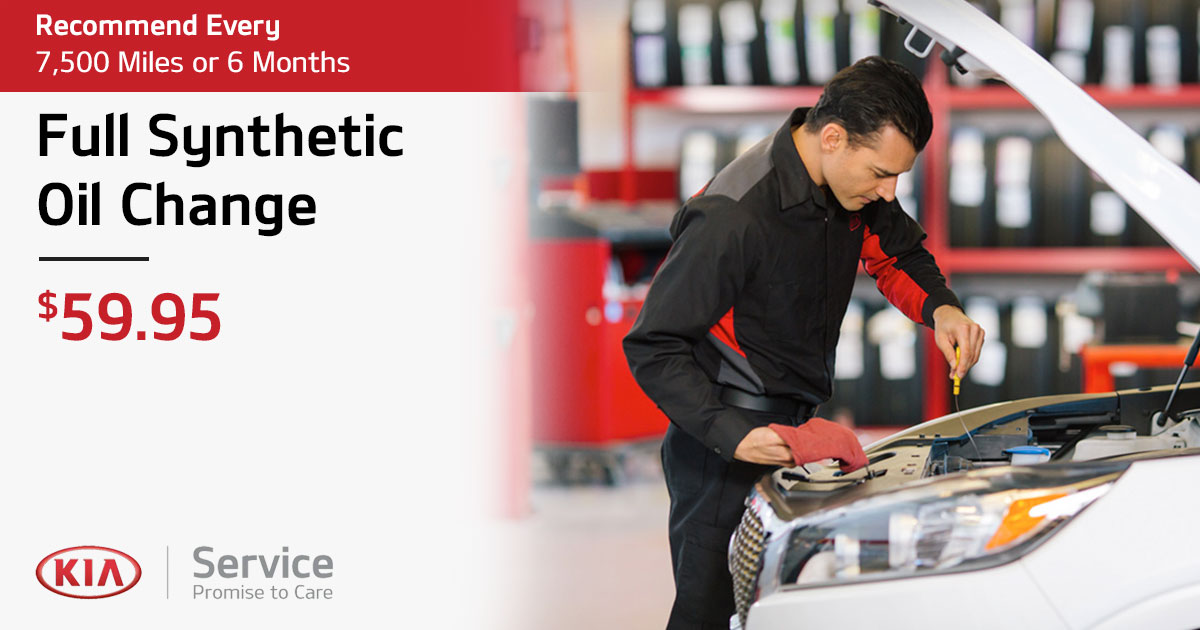 Kia Synthetic Oil Change Service in New Bern, NC
We offer a quality synthetic oil change service at Kia of New Bern according to certified standards by a certified technician with genuine OEM parts. When you want to get the best synthetic oil change service, you might have to drive past the nearest quick lube outlet to get the best from us at Kia of New Bern. You are welcome to review our current service specials for the synthetic oil change needed for enhanced savings and value.
Synthetic Motor Oil Maintenance & Service
Synthetic motor oil is made from petroleum resources that are significantly refined to improve its viscosity with a smaller molecule compared to conventional oil. Synthetic oil also contains additives that improve its resistance to thermal breakdown better than the alternatives. Although synthetic motor oil is the most advanced lubricant available, it will break down and serve as a poor lubricant.
Full-synthetic motor oil requires change service every 10,000 miles as detailed in the owner's manual. Synthetic oil change service at Kia of New Bern includes a certified technician removing the old oil and oil filter, inspecting for leaks, and installing Kia authorized full-synthetic motor oil and genuine OEM Kia oil filter to specifications.
Why Should I Get the Synthetic Oil Changed Now?
Changing the oil at the recommended miles is the single most important maintenance needed to get the most out of an engine. Putting off a much-needed oil change causes the engine to work harder under increased friction and heat. The consequence of poor engine lubrication is reduced fuel efficiency and premature wear and tear of the engine's moving parts. With getting the longest-lasting engine on the line, it is always the best decision to get the oil changed, as detailed in the owner's manual.
Benefits of Oil Change Service at the Dealership
    We offer the synthetic oil change that many Kia models need according to certified standards offering the highest quality service by a certified technician with genuine OEM Kia parts. We also offer no-cost conveniences not offered by the nearest independent quick lube outlet, such as complimentary multi-point inspections, a comfortable waiting area with business workstations, flat-screen televisions, vending machines, free wi-fi, and children's play zone. If you need the highest quality and greatest value for your service, schedule your next synthetic oil change today at Kia of New Bern.   
  Schedule Service