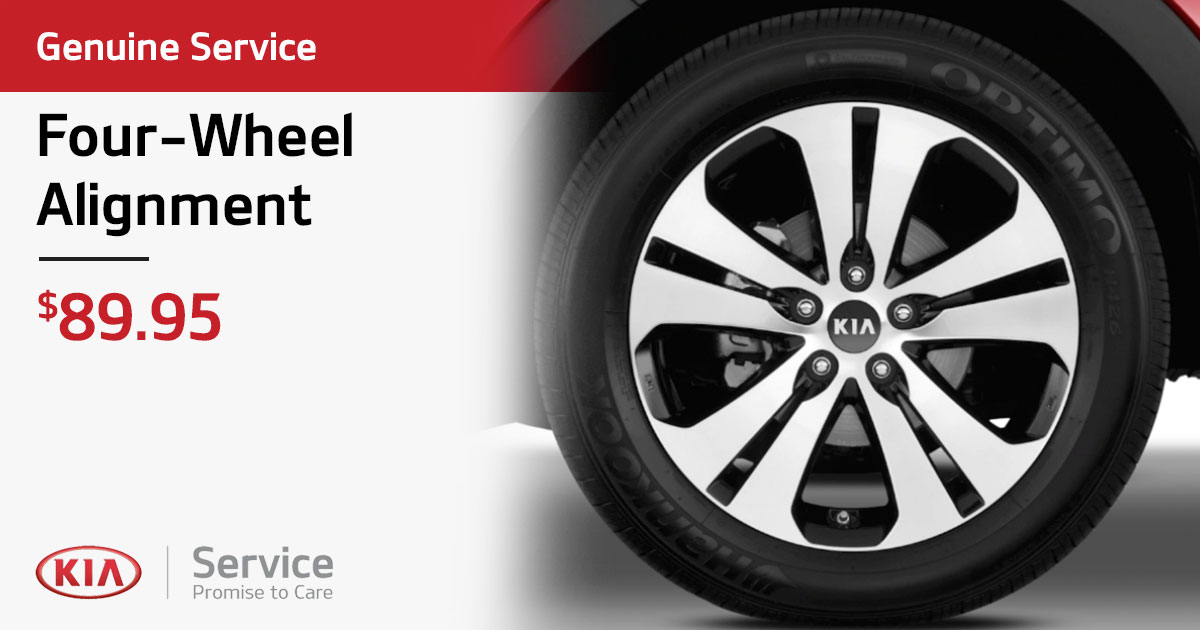 Kia Four-Wheel Alignment
Everyday driving can end up changing your vehicle's trajectory without you even noticing it. This can cause your vehicle to veer left or right on the road if your vehicle's wheels are misaligned. Fortunately, our certified service center cares about your needs and will always go above and beyond for you whenever you need it the most. Kia of New Bern in New Bern, NC has the right tools and expertise to provide you with a four-wheel alignment that will improve your vehicle's handling, extend tire life, and by proxy improve your safety on the road.
What is a Four-Wheel Alignment?
A four-wheel alignment restores the alignment settings of all four wheels on your vehicle back to factory standards. Driving on uneven roads and hitting bumps can cause your wheels to become misaligned. Our quick and simple service will have your wheels restored to a proper balance once again so you can drive without worrying about handling issues.
Why Do I Need This Service Done?
As mentioned before, your vehicle's handling can become compromised if you neglect to get this service done. This means that you will not be able to drive to the best of your ability. This can impact your safety on the road when driving.
How Often Should I Get a Wheel Alignment Done?
This is entirely situational for several reasons. For example, everyone has different driving habits and lives in different areas. If your vehicle is showcasing signs of misalignment, it is important to bring your vehicle to us immediately to provide you with an all wheel alignment service properly. However, if your vehicle is not showcasing any issues then the standard recommendation would be to visit our dealership every two to three years to get an alignment service. However, if you feel as if there is a problem of any size bring your vehicle to us and we will be more than happy to provide you with services and consultation at your convenience.
Reliable Four-Wheel Alignment Service with Kia of New Bern
 An automotive dealership should always put their customers first before anything else. At Kia of New Bern, we take pride in our ability to not only provide excellent automotive care but our ability to set an example of what excellent customer service is. Give us a call and schedule an appointment with us or simply bring your vehicle to our dealership for service. Our team of automotive experts is standing by to assist you whenever you need automotive help. 
  Schedule Service