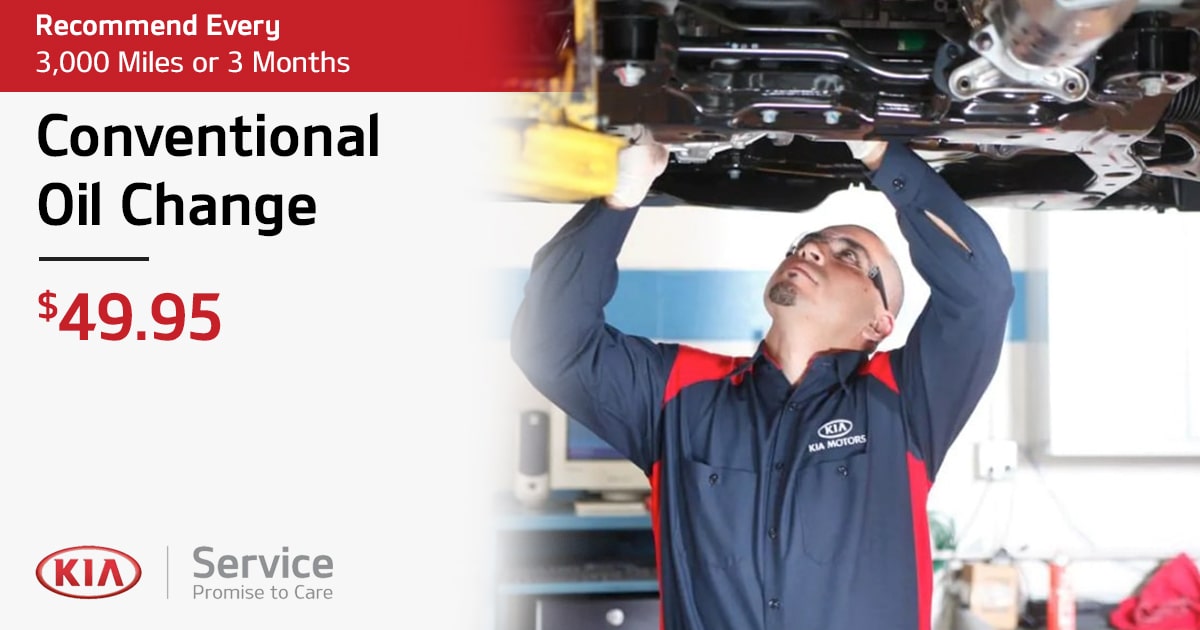 Kia Conventional Oil Change in New Bern, NC
We offer a quality conventional oil change service according to certified standards at Kia of New Bern. A certified technician completes conventional oil changes with Kia authorized conventional motor oil and genuine OEM oil filter. Our customers are welcome to check on our current parts and service specials to get enhanced savings and unrivaled value for conventional oil change service.
Conventional Oil Maintenance & Service
Conventional motor oil has been the standard lubricant for combustion engines since the beginning of the automotive industry. Although today's conventional motor oil has advanced considerably since the early days, it still requires routine change service to keep the engine healthy while generating power efficiently for as long as possible. Service includes a certified technician draining the old oil, removing the old oil filter, inspecting the engine for leaks, and installing Kia authorized conventional oil and genuine OEM oil filter to specifications.
Why Get Oil Changed Now?
Routine oil changes are arguably the single most important service to achieve the longest-lasting engine possible. Oil changes clean the engine and restore peak lubrication to the moving parts. Getting conventional oil changed between 3,000 to 5,000 miles as recommended is required for the longest-lasting engine possible. Putting off oil changes will only invite engine trouble with decreased engine life.
Problems with Extended Oil Changes
Extended oil changes happen after the recommended miles. If you drive a Kia with conventional oil that should be changed at 3,000 miles, but the oil gets changed at 4,000, this is an extended oil change. During the overage, the engine's moving parts face increased friction and heat that reduce fuel efficiency and can cause premature wear and tear. Getting the longest-lasting engine requires oil changes at the recommended miles.
Why Get Conventional Oil Change Service at the Dealership?
    Getting your oil changed at an authorized dealership with a Kia certified service department will give you the highest quality service completed by a certified technician with genuine OEM motor oil and oil filter according to strict service standards. Independent service shops hire self-taught mechanics and install aftermarket parts. If you want the best oil change service that's tailor-made for your Kia, be sure to bring it to Kia of New Bern for the best. Schedule your conventional oil change online or give us a call for an appointment at Kia of New Bern.  
  Schedule Service